Google's New Chapter of Search and What it Means for SEO
Google celebrated its 20th birthday last month. What started as a research project of two Stanford students, Sergey Brin and Larry Page, is now a powerful search engine with a network of information spanning over 190 countries and 150 languages.
The latest Google updates include three features made possible by AI and machine learning. Some of these changes are already underway and explains the algorithm updates we've seen this year such as Medic update last August.
So before you get surprised with another update, its time you understand Google's plan for the next chapter of search and how that will affect your website's traffic.
Three Upcoming Google Updates for SEO
1. Journeys
Most searches don't end with a single query; people often come back minutes or days (in some cases) with new questions on the same topic.
With Google's shift from search to "journeys," the search engine will know what you've already read and what you intend to accomplish, so you don't have to read the same info you did last time. To do that, Google will show the pages you've visited during your last session in a tab above the search results. Below that, you'll see a list of pages you haven't visited organized into different categories related to your search.
In the example below, the user searched for "Camping" and previously read articles about camping meals and choosing the best tent. Google also suggested related search terms like, "Camp tent for family" since it's obvious from past activity that the user will be camping with their kids.
Previously read content can be organized in boards, a.k.a "Collections" like those used in Pinterest.
So what's in it for Google? For one, they will benefit from increased engagement, as users come back to their search collections. They can also use engagement data to determine what kind of content is often saved and revisited, so they can show more of those in the search results.
While these features won't be available until later this year, all these changes show how Google search algorithm changes has improved in terms of understanding a user's intent.  It also confirms that they're taking cues from popular social media platforms in terms of UI design.
2. Query-less Search
Google is a search engine, so users need to enter a query to use it. Social platforms, however, don't require a query. Facebook and its kin are discovery platforms that show information based on a user's previous activity and interests. Google is aware of this limitation and are working to overcome it.
To this effect, Google launched Google Feed last year to show users information relevant to them, like a centralized dashboard of news and other topics you're interested in. Because of its 800 million monthly active users, third party publishers are starting to see its potential as reliable and free (for now) source of traffic.
Feed is now called "Discover," and with this new name comes a ton of shiny new features. Aside from more videos and images, Discover will show topic headers that you can click to get more information.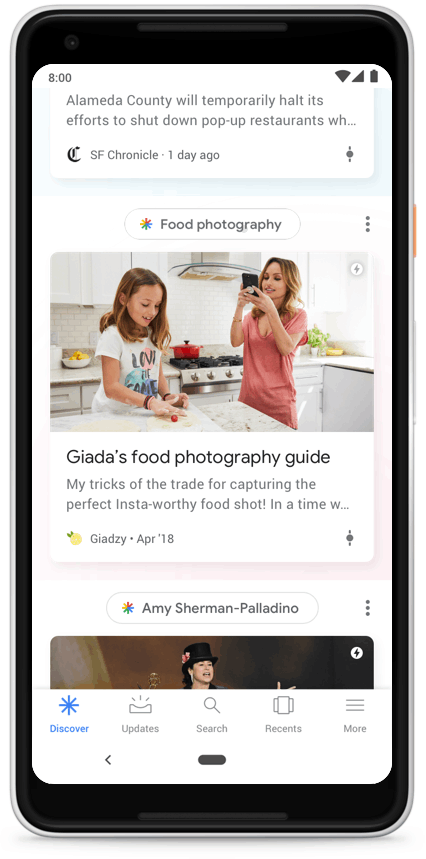 Like Pinterest boards, users can follow a topic they like so Google can serve them more info on the subject next time they check their feed. For instance, when you search "scuba diving," Discover will show you different information ranging from basic signals to advance open water skills. And because of Knowledge Graph 2.0, Discover can soon tell your level of expertise on a subject, and show you information based on your skill level.
This improved Knowledge Graph 2.0 and Topic Layers functionality maps the user's journey on search using Google's improved understanding of the relationship between different search parameters, such as things, places, entities, and people.
What do these google updates mean for SEO? It's no longer enough to include appropriate keywords throughout your content, you should also anticipate your visitor's next question. Now more than ever, you need an SEO team that doesn't rely on outdated practices like stuffing keywords and building links to any website that will accept them.
Discover, unlike social platforms, doesn't have community building functionalities such as likes, comments, and shares. Some publishers may see this as blessing, since what users see on their feed won't be determined by which content gets the most comments or likes. Users won't be stuck in a bubble of opinions and content they agree with, like what happened with Facebook and Twitter feeds last election.
3. A More Visual Search
Previously, Google relied on alt tags, descriptions, transcripts, and meta tags to understand images and videos. With its improved computer vision, Google's "understanding" of a video has improved to the extent that it can direct users to the exact time stamp within a video to answer a search query.
For instance, in the screen shot below the user searched "How to wipe mac" and Google's 1st result is a video titled "How to erase and Factory Reset Your Mac" at exactly at 2:14 of an almost four minute video.
Google Images algorithm was also changed to rank pages with better images and content, specifically pages where the image is higher up on the page and plays an integral role in the page's purpose. For instance, if you're searching for a new trench coat, Google will prioritize pages dedicated to a specific trench coat design instead of a category page showing different trench coat styles.
The domain's authority on the subject of your image search is also taken into account, so if you're searching for low-carb meals, Google will prioritize content from food-related sites. You'll also see more context in the image search results, such as image captions, and the title of the webpage where the image was found. And in keeping with the "journeys vs search" functionality, you'll also see related search terms at the top of the image SERPs so you can quickly jump to different subtopics.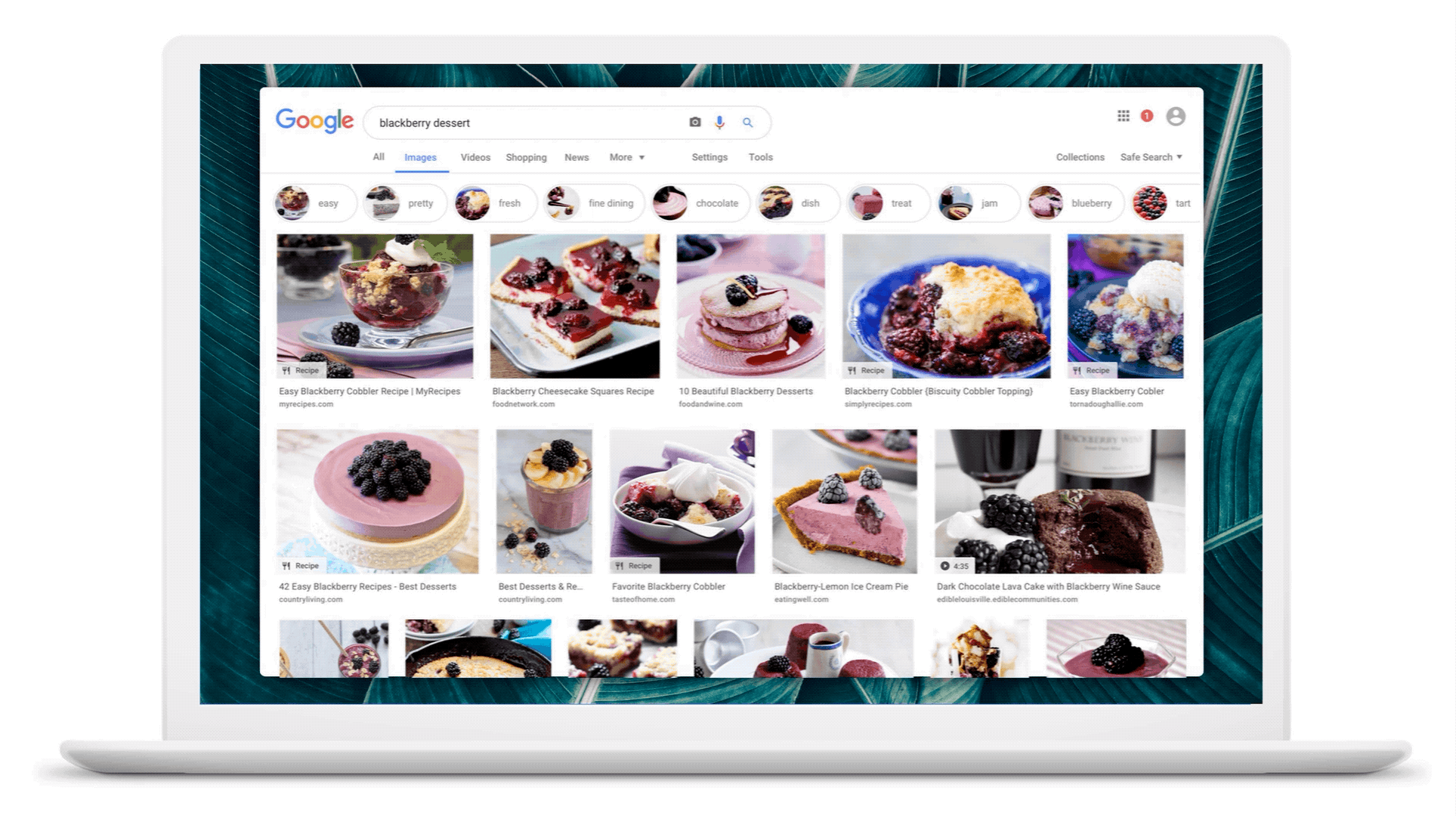 It's safe to say stock photos with no real connection to the site's content are no longer enough. You have to at least add some text to the image to explain its relevance. Better yet, create your own screenshots, infographics, and graphs.
Media networks and solopreneurs making a living through their blogs aren't the only ones who can capitalize on this opportunity. Google Shopping, the company's bet against Amazon, allows users to purchase items directly from search and pay with Google Express. They're using Google's search functionality to bring consumers and stores closers, bypassing the need for Amazon and other third party sites.
Ecommerce retailers that don't want to play on Amazon or Google's terms, however, can take advantage of the changes in Google Image algorithm by building online stores with lots of high-quality images and descriptive captions near the top of their product pages so next time someone searches for items they're selling, they'll have more chances of appearing higher-up in the image search results. It's important to note that these image improvements should be coupled with a responsive mobile design, as last year's Black Friday reveals that about 30% of online sales were done on mobile devices (64% for Shopify store owners and 50% for BigCommerce).
Adapt Now
All these changes suggest Google is on a silent war with Facebook and other social media platforms. While their failure with Google+ set them back in the race to win back users from Facebook, it's evident now that they're getting ready to attack on another angle—this time playing on their strengths as a search engine.
https://www.mcdougallinteractive.com/wp-content/uploads/2018/11/Google-Updates-for-SEO.png
504
739
John McDougall
/wp-content/uploads/2019/10/McDougall-Interactive-LOGO-transparent-1-300x103.png
John McDougall
2018-11-28 07:00:58
2019-10-03 10:16:36
Google's New Chapter of Search and What it Means for SEO